Sicilian Carousel – 8 day tour
Day 1) Palermo
Arrival at Palermo airport. Your tour escort will be waiting for you. Transfer to your hotel in Palermo. Tonight you will taste some delicious Sicilian
food along with the famous Sicilian cakes.
Day 2) Monreale – Palermo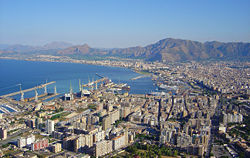 After breakfast, departure for a visit of Monreale Cathedral and Benedictine Cloister. A visit of the principle historical monuments of Palermo:
The Cathedral, St. John of Hermits, Norman Palace, Palatine Chapel with a panoramic tour of the city: Quattro Canti, Pretoria Square.
Possibility of excursion to Mondello and/or Mount Pellegrino. Return to the hotel for dinner and overnight stay.
Day 3) Calatafimi – Segesta – Erice – Trapani
Breakfast at hotel and departure for Segesta. We will tour the old town, the mighty Doric temple held by 36 columns, and the Greek theatre.
Then we will go to the medieval city of Erice, which stands upon an impressive hill, famous for the scientific cultural centre "Ettore Maiorana". In
particular we will visit the historical centre: the "Matrice" with its marvellous bell tower, the "Balio", the Norman Castle and the Venus Castle. A
panoramic tour of Trapani will follow. Dinner and overnight stay in hotel.
Day 4) Trapani – Marsala – Selinunte – Agrigento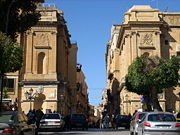 Breakfast. Depart to Marsala through the "Salt Way", visit the largest lagoon in Sicily, one of the most charming scenes with the possibility of
visiting the museum of "Salt Activity", plunged between the windmills, the Phoenician - Punic isle of Mozia with its archaeological finds and the
"Whitaker" museum. Continue to Selinunte and visit one of the largest Archaeological parks in Europe: the Acropolis with its marvellous
temples, evidence of the Greek and Phoenician - Punic civilization. Continue to Agrigento and a charming night tour of the lit "Valle dei
Templi" (Valley of the Temples). Return to hotel for dinner and overnight stay.
Day 5) Agrigento – Ragusa
After breakfast, visit the Valley of Temples: Concordia, Juno, Castor, and Pollux. Depart to Ragusa with a stop at Cosimo. In the afternoon you
will take a walk through the baroque buildings and charming narrow streets of the historical center of Ibla di Ragusa. Dinner and overnight
stay in hotel.
Day 6) Modica – Noto – Syracuse

After breakfast, depart to Modica, with well-kept, beautiful baroque churches from its splendid past. Continue to Noto, capital of the Sicilian
Baroque, where the most amazing monuments stand in the three squares of the main street of the town. Transfer to Syracuse to visit "Ortigia",
the baroque isle. Dinner and overnight stay in hotel.
Day 7) Syracuse – Taormina
After breakfast, visit the glorious vestiges of Syracuse's past: the Roman Amphitheatre, the Greek Theatre and the Ear of Dionysus. Depart to
Taormina, visit the Greek Theatre, and walk along the narrow and colourful streets for some shopping opportunities. Dinner and overnight stay
in hotel.
Day 8) Taormina – Catania
After breakfast in hotel, transfer to Catania airport.
Cost :
from € 689,00 per person sharing double Contact us to book Now
from €199,00 single room supplement
Cost Includes
• 7 night in 3* hotel as per itinerary – basis HB
• Multilanguage tour escort throughout and licensed
official guides as per itinerary
• Transportation per itinerary by luxury coach with air-
conditioning (including city permits)
• Entrance Fees as per itinerary
• VAT
Contact us to book